Episodes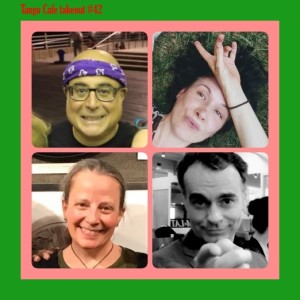 Wednesday Dec 30, 2020
Wednesday Dec 30, 2020
Tonight on the show. New York City tango organizers Unite. 
We were so fortunate to be joined by, Sarah La Rocca, Steve Beltzer, Jack Hanley, Juan Pablo Vicente, Gayle Gibbons Madera, and Tioma Maloratsky.

It was so much joy to connect with all of our fellow organizers and we had so much fun to chat and tell stories of our histories as organizers and our futures as well.
Believe it or now, having this many guests wasn't as disorganized as one would think.
Thank you all for listening, calling and being a part of this while we are all apart. We will continue to bring you great shows to keep us connected socially as we learn and talk about Tango as it has so many layers.
Tango Cafe takeout is a donation based show. If you would like to help you can send any contributions here.
adamandciko@gmail.com
Via Venmo or PayPal.